Jaya Ahsan won Filmfare Award East 2018
Jaya Ahsan won Filmfare
Jaya Ahsan won the award of Best Actress at Jio Filmfare Award in the "popular" category for her stellar performance in "Bishorjan". An Indo-Bangla joint venture movie by Director Kaushik Ganguly.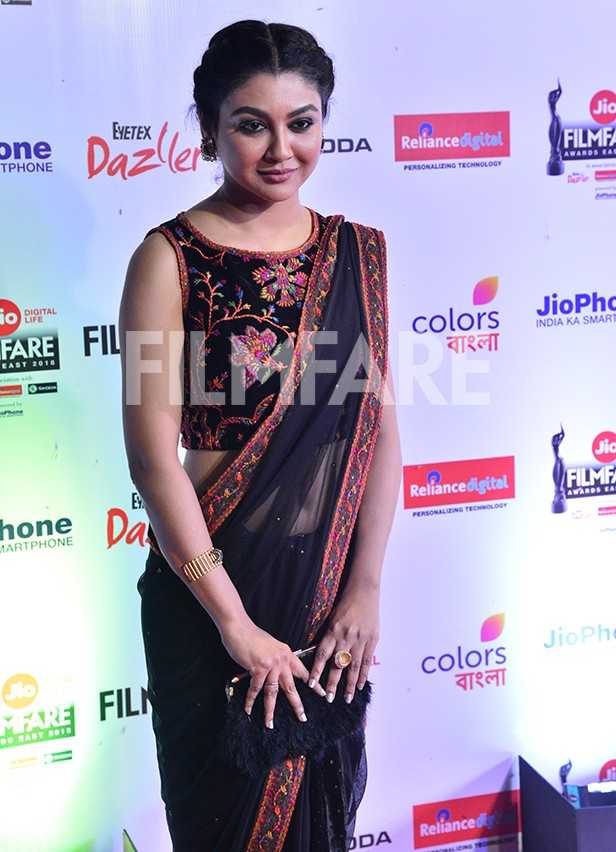 She received the award from veteran director Sujoy Ghosh on Saturday at the Science City Auditorium Kolkata at the third edition of Jio Filmfare Awards (East) 2018.
This the first time a Bangladeshi actress has got Filmfare.
In this year from Bangladesh, Sheikh Rajibul Islam got nominated for the Best Cinematography Award for "Doob" By Mostofa Sarwar Farooki. Chirkutt's vocal Sumi got nominated for best playback singer (female) for "Ahare Jibon'. She also got another nomination for penning the lyrics of the song. Pavel Areen, drummer of Chirkutt also had been nominated in the Best Background Score category for "Doob".
"Doob" bagged a total 5 nominations in different categories, including Irrfan Khan in the "Critics' Award for Best Actor.
On the big screen, Jaya became more famous in her later age when she started working in movies as a leading actress where other actresses became less favorite in the movie at the similar age. She had a special appearance in a film "Bachelor" by Mostofa Sarwar Farooki in 2004.
Nurul Alam Atik's "Dubshatar" was the first movie of Jaya Ahsan played a leading character in 2010. In the same year she worked in Tanim Noor's " Fire Eso Behula".
In 2010-2011 she worked in Nasiruddin Yousuff's big budget film Guerrilla based on the events of the Bangladesh Liberation War.
Guerrilla won national awards in ten different categories, including the best actress award for Jaya Ahsan. Her success in this film shifted her focus to the film industry.
Then She worked in Redoan Rony's "Chorabali" one of the commercially successful film of 2012. Srijit Mukherji's Rajkahini was one of her most successful movie where her character creates a little bit controversy to the conservative society.
Bangladesh film industry is getting more and more rich because of her talented and successful contribution in the industry.
She will be seen in director Mahmud Didar's upcoming film "Beauty Circus". As the lead character.
Ahmed Sabbir
Section Editor, Art Culture of Bangladesh
18 February 2018
Dhaka
For more about Bengali Cinema and Culture
Subscribe here
[contact-form][contact-field label="Name" type="name" required="true" /][contact-field label="Email" type="email" required="true" /][contact-field label="Website" type="url" /][contact-field label="Message" type="textarea" /][/contact-form]